5 Pitfalls that Derail Success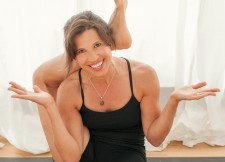 I've been teaching yoga for two decades and have trained hundreds of yoga teachers. Some of them have gone on to make successful careers as teachers—a few are even famous! But others have not.
What makes the difference? I'll tell you.
Below are some of the Pitfalls that Derail Your Success. Stick with me even if you don't teach yoga. What you learn here will translate to whatever path you're on.
1.  You crave praise and approval from your students/clients. You want to know that you did a good job and so you ask your students questions after class like, "How did you like class?" If there's a complaint, it pains you deeply to the point of debilitating you.
2.  You worry your classes/services aren't fresh and your students/clients are bored.  You feel uninspired, so you try just about anything to "spice" things up—like copying someone else's work, trying a new trendy technique, and the like. Sometimes it works. And sometimes— well, let's just say you wish you had the Do Over button!
3.  You secretly worry that small classes/client base mean you're not any good—at teaching yoga, your profession. And you feel like you're just no good.
4.  You think your large following of students (or clients) means you're great.  I have two words for you: Justin Beiber. He has the second largest Twitter following. I rest my case.
5.  You're not sure how much you should be charging for your services or earning as your salary.  On the one hand, you feel like what you earn isn't enough. On the other hand, let's get real, it's just yoga!
If any of these ring true for you, take heart. You're not alone! Even better, I have something that will help you move beyond this. Take a moment now and schedule your 
free yoga breakthrough session
with me. It's totally free, and I promise you'll leave the call with at least one action guaranteed to improve the situation— and your success!
Then let me know here how it goes!
Love and brilliance,
Laurel
A successful man is one who can lay a firm foundation with the bricks others have thrown at him.
–David Brinkley