Next Training Starts July 10th. Enrolling now.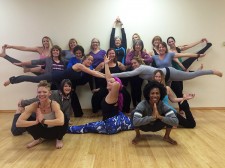 Spring into yoga! Step into your dream of becoming a yoga teacher AND save big on Yoga Teacher Training with Laurel Hodory & Faculty and learn how to:
Save $750 on tuition. Monthly pay plans as low as $337.
Get free enrollment in the workshop, Accessing Impossible Poses: Hurray for Handstands and Scorpion Variations ($45 value)
Get free enrollment in the Yoga Experience, an online yoga program with yoga videos, lectures and meditation videos ($495 value)
That's more than $1,290 of valuable training, yours FREE! Click on the link below now to schedule your free, no-obligation interview with Faculty to learn more.
But don't get lulled into complacency! This training fills up long before the start date AND the special bonus pre-training starts in March!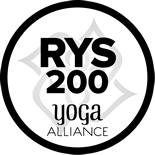 Get certified in 5 months
Payment plans as low as $337 / month
Get certified by a school with some of the most sought after graduates
Certification with a Registered Yoga Alliance School
Don't wait, take the first step today and schedule your free telephone interview. These interviews will go fast!
Benefits
Learn to master the secrets of Intelligent Sequencing Method™
Develop your leadership skills & student following with Authentic Voice Method™
Training in Ashtanga and Hatha Vinyasa Yoga
Acquire the ability to apply skillful hands-on assists
200/500 Hour Yoga Alliance Registered School
2015 Dates & Meeting Times
Meets daily 8am-6pm over ten weekends.
Program 1
Starts Jan. 9, 2015
Program 2
Starts July 10, 2015
Application deadline January 1st
Jan 9-11 & 24-25
Feb 7-8 & 21-22
Mar 7-8 & 20-22
Apr 4-5 & 18-19
May 2-3 & 16-17
Application deadline July 1st
Jul 10-12 & 25-26
Aug 8-9 & 22-23
Sep 12-13 & 25-27
Oct 10-11 & 24-25
Nov 7-8 & 21-22
Location
The Yoga Training Center
2994 Mckinley Avenue
Columbus, OH 43204
Video: Why Yoga Teachers Have More Fun
Recent Training Classes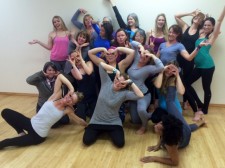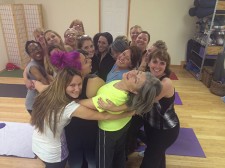 Faculty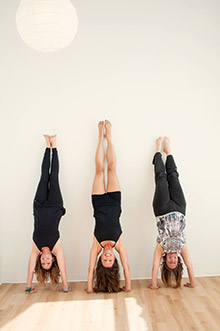 Director & Lead Faculty, Laurel Hodory, MS, E-RYT500, is a senior yoga teacher, a teacher's teacher who has been studying and teaching yoga since 1992. She has trained and certified hundreds of yoga teachers […] See full bios
Lead Faculty, Sally Roberts, ERYT 200
Sally discovered yoga in 1998 when she attended basic Hatha yoga class in Florida. She immediately began searching out yoga classes & teachers in the Columbus area while continuing to practice on her own […] See full bios
Faculty, Mary Ellen Coleman, ERYT200/RYT500
Mary Ellen believes that yoga holds the key to sustainable wellness in body mind and spirit. Through a balance of yoga wisdom and health coaching, Mary Ellen helps others find a balanced lifestyle, inner strength and contentment. […] See full bios
What's the Buzz about Yoga in Columbus?
"Laurel draws out each teacher's gifts. She is an incredible teacher who encourages, balances, and drives one to find her inner voice."— Lori Cochran, School Teacher
Back to top