A Play List for Your Work Day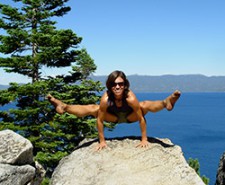 What's your play list – the activities you love to do for the fun of it, the things that bring you joy? Think of things that take no more than 5 to 10 minutes. 
Do you sprinkle them into your day, EVERY day? 

If not, you may be cheating yourself of the greatest resource to make your work days productive and easeful according to neuroscientist Christine Carter. 

Here's my short play list: 
Get outside! Short walks, a swing in the hammock or if I get lucky, borrow my neighbor's dog and play fetch – I don't have one yet 🙂 I absolutely love the outdoors and animals so this is a fail-proof energy booster for me.
Do a handstand. Even better, do a walking handstand outside. This makes me feel like a kid and is better than a cup of coffee.

Call a friend I know is free to chat for a few minutes during the day. Work can be isolating, and just re-connecting with friends is a powerful antidote!

 
Blast Daft Punk or Katy Perry and sing/dance wildly.
Since I work from home, I have accessibility to things you may not in the work place. But don't despair, get creative! Plant some props in your pod at work. Make your own list and you'll be surprised, energized, and more productive.

Practice 
Make your own play list for work. Every 90 to 120 minutes take a scheduled play break. For every one negative experience, add in three positive activities to balance the scale. Then make a playlist for life after work 🙂
Come play with us on the mat! The Yoga Training Center now has classes taught by our graduate teacher interns. Click here for our schedule.