V.I.P. Private Yoga Teacher Training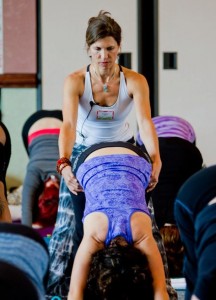 This customized training is designed specifically for you if you're interested in advancing your teachings skills, changing lives and creating a following and filling your classes. In this V.I.P. Yoga Day, you'll learn Inner Secrets from Master Yoga Teacher, Studio Owner, Coach and Author in any area you chose including but not limited to:
Build Confidence
Taking the seat of the yoga teacher is no small job. Whether you recognize it or not, as a yoga teacher, you are a model to others. With Authentic Voice Centering™ you'll learn how to systematically shift your energy from a space of self-doubt to confidence and step into your role as a leader so that you can uplift your students every time you teach.
Clear Cueing
If you've ever taught or been in a class where a number of students aren't following along well, you've experienced the results of unclear cueing. With clear cueing, you'll learn how to effectively move your students together into and out of poses so that your class has a positive, uplifting energy that keeps students coming back for more.
Posture Sequencing & Class Design
Most yoga teachers have little knowledge of how to sequence postures to systematically progress their students to the next level and keep them out of injury. When you learn Intelligent Posture Sequencing™ not only do you prevent injury in your students, you keep them excited and coming back for more because they systematically experience progress in the poses.
Hands-on Yoga Assists
Have you ever had a hands-on yoga assist that left you wondering what it's purpose was? When done skillfully, hands-on yoga assists quickly communicate from a felt experience how the student can advance into a deeper experience of the posture. With Guru™ Yoga Assists, you'll learn a system for delivering safe and effective assists every time.
Creating a Following & Filling Your Classes
Want to know the inner secrets to building your yoga business quickly? Your V.I.P. day can be structured to answer your burning business questions. As a certified business coach, successful independent yoga teacher and studio owner with more than 15 years of experience, Laurel can get you on track and earning a return on your investment in no time.
Other topics include how to theme a class and teach proper alignment, get your students out of pain, apply modifications, 6 Secrets to Breakthrough any Pose and more!

Sign Up
Ready to setup and customize your very own V.I.P. Yoga Day? Sign up now to speak with the YWL team!
https://www.timetrade.com/book/MCS2L
But don't wait, we offer only a few number of these V.I.P Days each season. So sign up for your telephone discovery session now to guarantee your spot today!